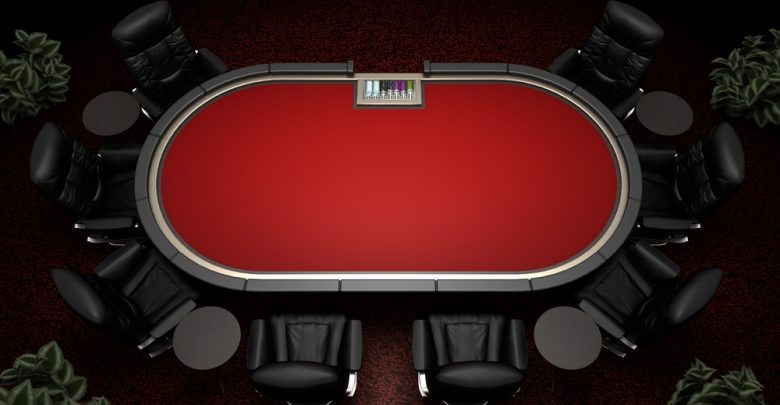 You can play poker on just about any flat surface available to you—the kitchen table, the dining room table, the coffee table, the floor. All you need is a deck of cards, some chips, and a flat surface.
Serious poker players, however, should look into a dedicated, purpose-built poker table to add to their home, place of business, or gaming hall.
Players who are grown-ups, aspiring grown-ups, or even the young-at-heart — all can benefit from the sophistication and function that comes from playing on a surface designed for the playing of poker.
Consider:
Gameplay. Traditional poker tables are either circular, octagonal, or oval-shaped, the perfect shape to position players where other players can't see their cards. The green felt surface looks snazzy, but it also serves a purpose—the felt adds friction, preventing cards from flopping or sliding out of place and possibly getting lost or (worse) revealed too soon. The felt may even be illustrated like a casino table to enhance gameplay.
Comfort. Poker games can last a long time, with many reversals of fortune before someone claims the whole pot. Comfortable chairs play a big role, but consider the hours spent with forearms resting on the table, cradling cards away from prying eyes. You can get carpal tunnel from habitual poker playing just as easily as from keyboarding. That's why many poker tables feature soft armrests—to protect the radial tendons over long periods of gameplay.
Durability. When you hear the term "card table," do you think of a flimsy folding table? Poker tables range in durability from particle planks to solid wood. Depending on the investment you make, it could break in a stiff breeze or survive to become a family heirloom. Let's not forget, too, that alcohol is a popular component of many poker nights, so you have to consider the resistance of the felt surface to spilled drinks.
Ready to kick poker night up a notch? At the intersection of price, quality, and value, here are our picks for the best 21 poker tables money can buy.
1- Giantex Portable Rubber Non-Slip Poker Table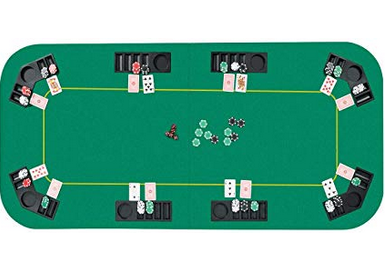 For players who need portability and flexibility in their poker gameplay, it's hard to beat this 8-player poker mat by Giantex. This folding poker table is actually a one-inch-thick foam rubber mat that can sit on any table of sufficient size to create an 80"x36" oval poker table.
Each of the eight-player stations features a four-row chip rack, as well as a cup holder for those all-important poker refreshments. The cup-holder is helpful, but let's remember that this isn't a felt surface, but a durable and waterproof blend of density board and ABS plastic, which resists drink spills easily.
The Giantex poker table folds into quarters, forming a compact 20"x36" package that fits into the included vinyl carrying case, making this an ultra-portable folding poker table (or "table-topper" — legs not included) that you can throw in the car and take anywhere poker duty calls.
2- Barrington Texas Holdem Poker Table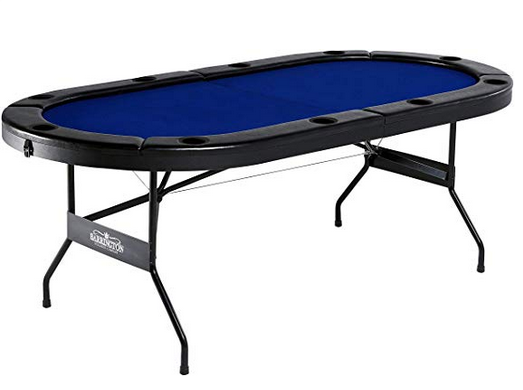 This 10-station portable folding poker table is ideal for players who want a substantial, comfortable poker table that they can store when not in use. You could even get several of these folding poker stations to have a barn-burner of a poker night with multiple tables in play.
The Barrington Texas Holdem Poker Table weighs in at a manageable 37 pounds, easy for two people or one strong person to carry and set up to create 80"x42" of gameplay space, with padded rails and cup holders surrounding the entire perimeter of the table to protect the forearms from cramping and to protect the felt surface from spilled drinks.
No graphics are printed on this table, for a spare, professional, minimalist appearance suited to seasoned players and dealers. The vinyl rails are easy to keep clean with liquid cleaner and a rag.
3- Soozier 48″ 8 Person Octagonal Foldable Poker Table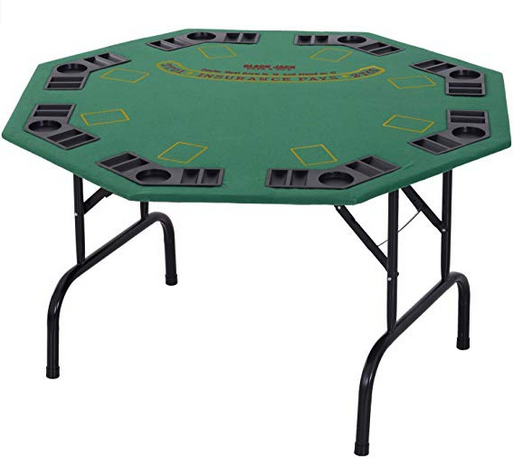 Sozzier's cool 48-inch octagonal folding poker table weighs in at a manageable 45 pounds. That's still pretty hefty for a table of this size because this stripped-down, few-frills table features a completely felt-upholstered poker table top made of solid MFD board.
The table has a few key features, including cup holders and chip rails, as well as a spare but useful array of screen-printed graphics on the playing surface. There are rectangles for the dealer to aim at when dealing, and, more interestingly, a blackjack array so this table can double as a blackjack table.
4- Giantex 10 Player Portable Tri-Fold Poker Table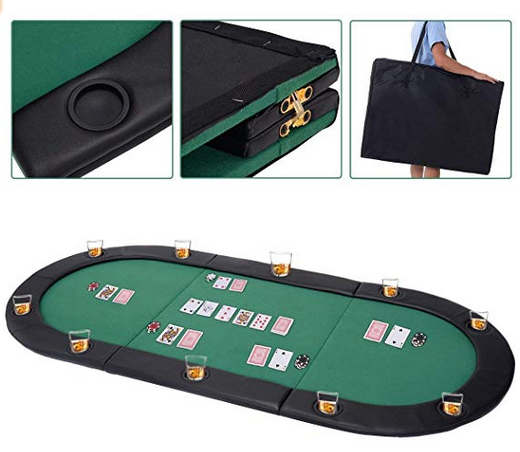 In addition to their quad-fold, eight-seat poker table top, Giantex also makes a tri-fold poker table top that seats 10 players and features the added advantage of padded rails for forearm comfort during long gaming sessions.
79"x36" when unfurled onto a table top, the Giantex 10-Player Tri-Fold Poker Table folds into a square and fits into a carrying case that allows you to turn any big dining room table into a world-class poker table.
The water-resistant lint-upholstered surface is graphic-free, with no distraction from the gameplay. The MFD board is durable and difficult to deform, even at only 0.4" thick.
5- Barrington 10 Player Poker Table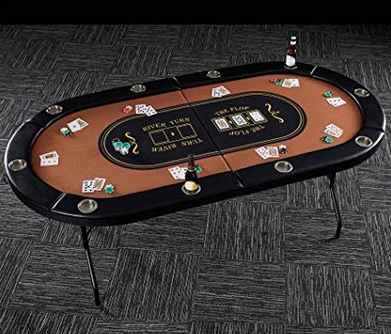 Barrington also offers a version of their 10-player folding poker table with a graphic playing surface. The felt features graphics in the center that offer the bare minimum needed to play Texas Holdem poker. It features spaces for the flop, as well as the river and the turn.
Generously sized at 82" x 44", the tabel caters to the thirsty with a cup-holder at each place, as well as padding to protect those arms working overtime to bet and win. A great choice for poker nights that will feature newbies alongside the veteran players.
6- Fairview Game Rooms Executive Poker Table with Reversible Dining Top
Want poker night to exude class? Get this wooden octagonal poker table by Fairview, fit for an executive. Made of sumptuous dark-stained mahogany and crafted in neoclassical style, this is a grown-up poker table that can also do double-duty as a dining table. Simple reverse the table-top, and your secret is safe with us.
When flipped into poker mode, the eight stations feature chip racks and drink holders, surrounding a slate-gray circular felt surface with no graphics, a playing surface worthy of a black-tie VIP poker room in Monte Carlo. 54" in diameter, the Fairview Executive Poker Table has a shipping weight of 245 pounds.
7- BBO Poker Elite Alpha Poker Table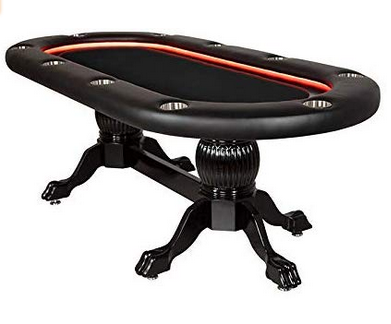 Many poker tables take a classic, old-world approach, fitting for a game dating back to the Feudal era. BBO, on the other hand, blends classic touches with a flair of modernism. It features jet black trim with stainless steel cup holders, as well as LED lights to illuminate the action on the table. The LED lights can even be set to one of five speeds: constant, fade, flash, smooth, and strobe.
The table itself features ten stations and comes in eight pleasing color schemes, each featuring a blank felt playing surface that fits in with modern and transitional decor. The faux-leather rails are padded to protect the forearms from cramps, forming the borders of an oval playing surface measuring 94"x44".
8- Texas Holdem Poker Table w/ Stainless Cup Holders
This hand-crafted, US-made octagonal casino-quality folding poker table cuts a dashing figure, whether it is left up permanently or kept in storage until poker night. The 48-inch table is surrounded by padded rails with stainless steel cup holders, but the real star of the show is the poker table top.
The upholstery is made of speed cloth, perfect for dealing and shuffling with flair and decorated with a platinum-colored Argyle pattern of card suits. Stretch this fabric over a ¾" solid piece of wood, and you have a poker table that stands the test of time and gets you in the mood to play.
9- LUCKYERMORE 8 Players Folding Poker Table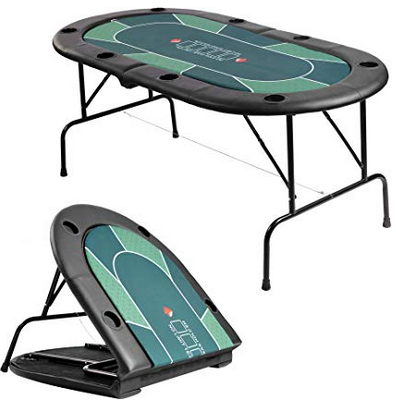 LUCKYERMORE offers two options of folding poker tables—a 48" octagon and a 72"x36" oval. Both seat eight players. Which one you choose depends on your taste and the space you want to fill, but in both cases, the table folds in half. We like the oval poker table, which folds into a manageable 36" square.
Both tables feature padded rails and a cup holder. The octagonal table features limited graphics on the felt surface, including card-shaped rectangles for the dealer to aim for. The oval poker table features outlines for the flop, river, and turn, as well as cool color graphics designating each player's territory.
10- Rush Creek Creations 8 Player Octagon Poker Table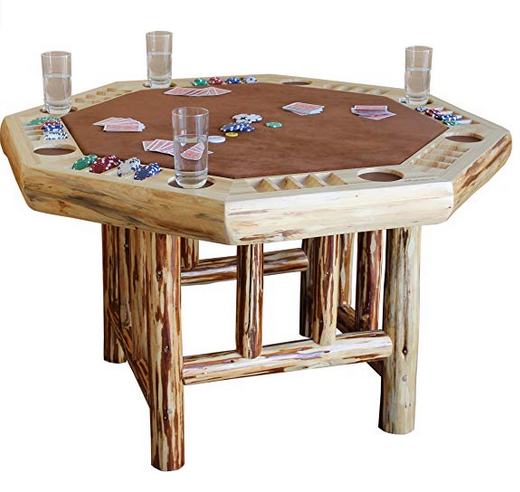 For poker enthusiasts who favor rustic decor, Rush Creek Creations has the poker table for you. This surprisingly affordable eight-player octagonal table is hand-crafted from unstained, polished wood to give it a "log cabin" aesthetic.
There's nothing primitive about the gameplay this 49.2" table offers. It features chip rails, drink holders, and a graphic-free padded velvet gameplay surface that doesn't distract from rustic decor. Perfect for cabins, it makes a great addition to rustic bed-and-breakfasts.
11- World Outdoor Products Professional Lightweight Poker Table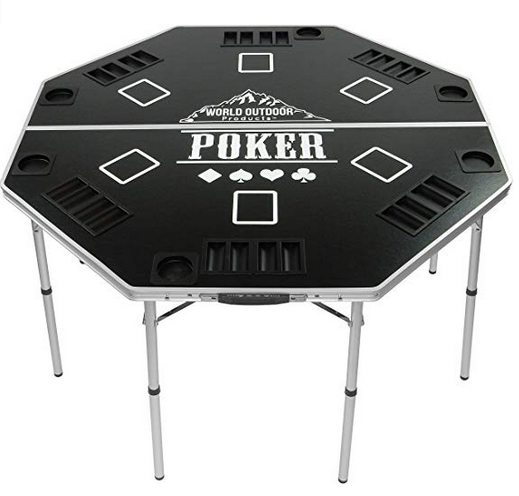 It may be the lightest folding poker table ever—only 25 pounds. This octagonal table, suitable for outdoor use, is manufactured from lightweight aluminum and comes with a custom-fitted cover to protect it from the elements when not in use.
48 inches in diameter and featuring cup holders and chip racks at each station, the World Outdoor Products table sits on eight 15-inch legs, one at each corner, with adjustable PVC tips on each leg so you can achieve a level poker table top, even on uneven surfaces.
All eight legs fold up, and the table folds in half, to fit into an included carrying case and accompany you in the back of the SUV into the great outdoors—the perfect poker table for a camping trip.
12- PokerOutlet Octagon Folding Poker Table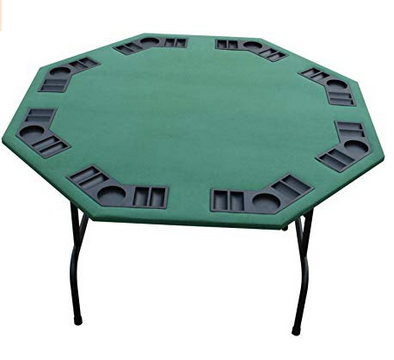 For people who want an octagonal folding poker table with a little more playing space, PokerOutlet offers this table in 52" or 60" sizes. It's got a bit of heft, 44 lbs, and 51 lbs respectively.
Crafted in solid wood, each table is upholstered in blank felt in one of five appealing colors. It also features chip trays and cup holders at each corner. The legs fold for easy storage and transport.
13- MRC Poker 10 player poker table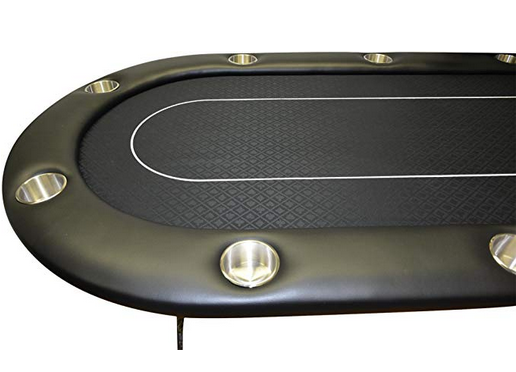 This gigantic 96" folding poker table adds a touch of class that not all folding poker tables offer—tuxedo-black faux-leather padded rails, stainless steel cup holders, and a slick white betting line against inky black felt upholstery.
Quite heavy due to its size, the MRC Poker table seats 10 players comfortably and looks so good it's easy to miss the folding-table legs.
14- Saturnpower Portable Foldable Poker Table Set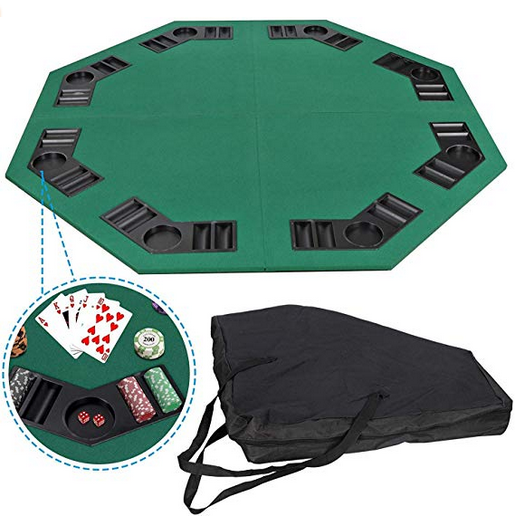 Saturnpower offers a classic octagonal poker table top without the legs, allowing you to turn circular dining tables into a functional poker table at will. The 48-inch-diameter folds in to quarters to fit into the included faux-leather carrying case as a 24"x 24" square.
When unfolded, it offers chip rails, cup holders, and a durable blank felt playing surface. No assembly is required. Just unfold, get your chips, and ante up!
15- Hathaway Kingston 3-in-1 Poker Table with 4 Chairs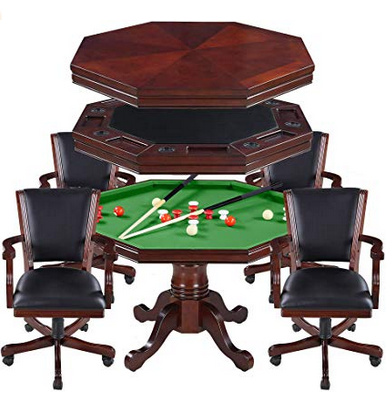 This is the table for true gaming connoisseurs. Everyone will know you mean business when they show up for poker night and you're dealing cards on this bad boy.
Hathaway Kingston crafts this octagonal pedestal table in classic style, from American birch hardwood with a warm, deep walnut stain. The faux-leather poker playing surface is revealed by reversing the table top, which can be used as a dining table, to the playing surface, which features a chip rack and drink holder for each station.
This table has even more surprises in store. Lift up the dining/poker table top, and you will find a bumper pool table, providing even more fun gameplay options.
Along with the 48-inch gameplay table, Hathaway Kingston includes four matching rolling chairs with cushioned seats upholstered in faux-leather. Everything you need for a classy poker night, one and done.
16- IDS Poker Knight #58 Poker Table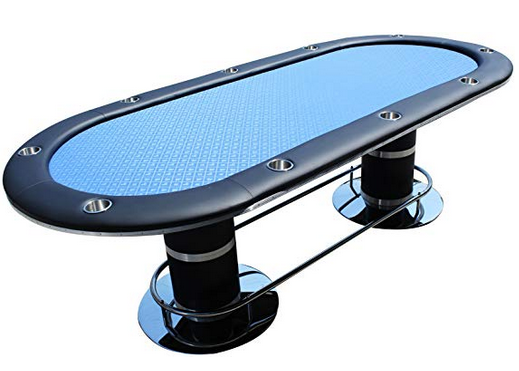 This poker table just exudes cool, from the two-column supports to the foot rails to the thick foam-padded arm rails to the stainless steel cup holders. The speed-deal upholstery is decorated with a card-suit pattern, while the oversized, 96"x43" oval table top fits ten players with room to spare.
Elegantly crafted and decorated, this surprisingly affordable 198-pound poker table makes a great addition to a hotel, bed and breakfast, or home casino/gaming room.
17- Spinettis 84" Racetrack Poker Table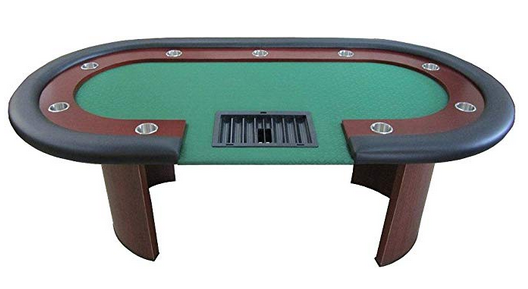 This 84" Spinettis poker table would look right at home in a casino and is perfect for a home or office casino night. It features a station for the dealer/banker, along with nine player stations marked by stainless steel cup holders recessed on a wood racetrack below the padded rails. This protects the felt surface from drink spills while keeping the player's drink from obstructing the handling of his or her hand.
Want more playing surface? The racetrack is removable. A versatile and affordable table, easily assembled with the included tools.
18- Build Your Own Poker Tables Customizable 8′ Poker Table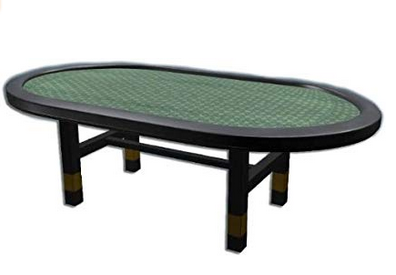 Budget-conscious players can save a few bucks by ordering a kit from Build Your Own Poker Table. These kits allow you to build an eight-foot standing poker table and upholster the table top with the fabric of your choice.
Build Your Own Poker Table offers nine colors of rogue vinyl, as well as 17 flavors of speed cloth patterned with card suits. A poker table for the DIYers that you can truly call your own.
19- BBO Poker Nighthawk Poker Table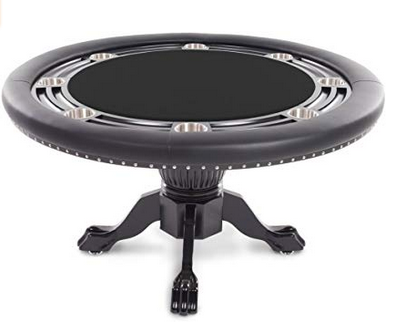 This classy circular pedestal poker table by BBO features a delicious blend of classic and contemporary touches, including thick padded rails surrounding an oversized 55-inch table.
Other cool features of the Nighthawk poker table include stainless steel cup holders in the black-gloss racetrack, as well as chip racks that curve attractively, conforming to the table's arc. The studded upholstery tacks on the faux-leather rail covers add even more visual appeal.
The Nighthawk features a large circular graphic-free playing surface, upholstered in one of four beautiful colors in your choice of speed cloth or felt, and it sits on a pedestal with four solid-wood clawfoot lets and seats up to eight players with room to spare.
20- BBO Poker Lumen HD Lighted Poker Table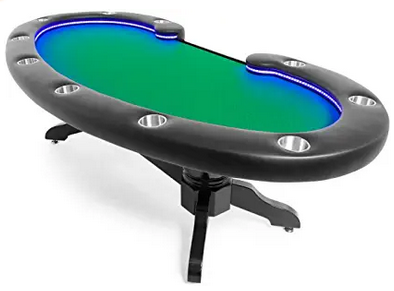 We love BBO's variation on the oval poker table with the Lumen HD Lighted Poker Table. Featuring a dealer station and a break in the padded rails, it resembles a kidney bean more than an actual oval, giving it extra visual appeal, cool asymmetry, and a dash of true casino flair.
With stainless steel cup holders and space for ten players in addition to the dealer, the table measures out at a massive 101 inches in length, the ideal focal point for a no-nonsense gaming room. You can match your Lumen HD to your decor by picking one of BBO's four color choices and a choice of felt or speed cloth upholstery. The black and green tables feature blue LED lighting; the blue and red tables feature purple LED lighting.
21- Legacy Billiards 48″ Pub Table Poker Table Conversion Top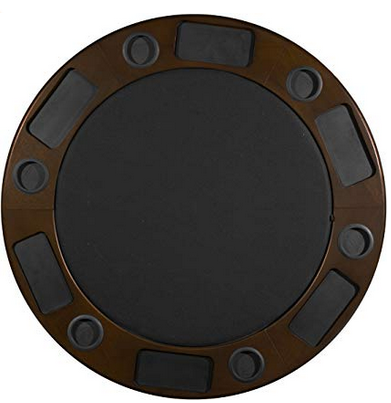 As the name suggests, Legacy Billiards' 48" poker table top is a perfect gaming addition for a pub or bar to turn its pub tables into six-player poker tables with cup holders, chip racks, and a felt playing surface.
With more and more Americans abandoning formal dining tables in favor of pub tables in their dining rooms for quick, casual meals, the Legacy Billiards pub table poker table top may be a useful addition for poker players who don't own a bar.
When considering a poker table, look at the space you have to fill. Are you able to tuck the table into a corner, or can the poker table become the focal point of a whole room? Do you want a folding poker table you can stow in a closet, or perhaps one that transforms into a non-poker table, its gaming function your little secret?
You may also wonder if you need to select a printed poker table. Printed features on a poker table can be helpful, especially for newer players. They can delineate such useful information as:
Territory each player can occupy.
Where to deal cards to players.
Where to place the flop in Hold 'Em.
Where to place your deck.
Where to place burn cards.
Chip repositories for the bank and for each player.
A designated space for the betting pot.
Of course, a legit poker table needs none of this. Plenty of veteran players like a table as blank as a poker face—just low lighting, cigar smoke, the right beverage, and a felt surface on which the drama can unfold … or fold, as the case may be.