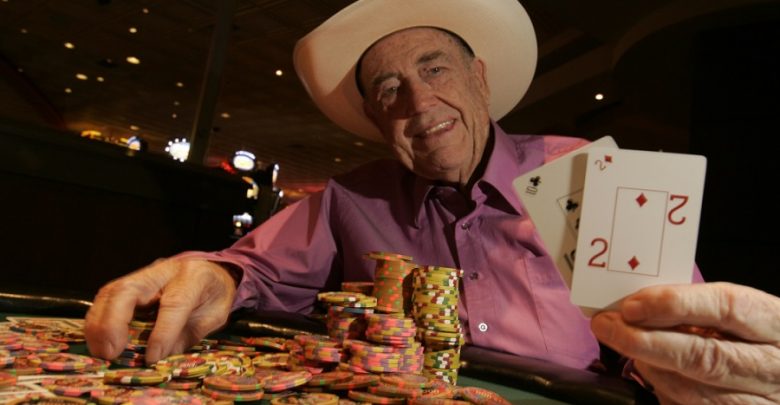 Newly retired Doyle 'Texas Dolly' Brunson is one of the most famous poker players ever to grace the tables. 
With two WSOP (World Series of Poker) main event wins under his belt and a total of 10 bracelets on his wrist, there are very few people who have bragging rights as strong as Texas Dolly's. He is a member of the Poker Hall of Fame, an author of several books about the game and even has a hand named after him – Doyle's Hand, a 10-2. 
With over 60 years at the felt, there are countless stories, wins, and losses surrounding Brunson. From becoming the very first player to earn $1 million through poker tournaments and WSOP wins to his very last game and the sheepish tip of the hat in 2018, Brunson has done it all.
So let's take a look at the life and play of a true poker hero – the ups and downs, wins and losses and everything in between in the life that Texas Dolly has lived. 
The early life of Doyle Brunson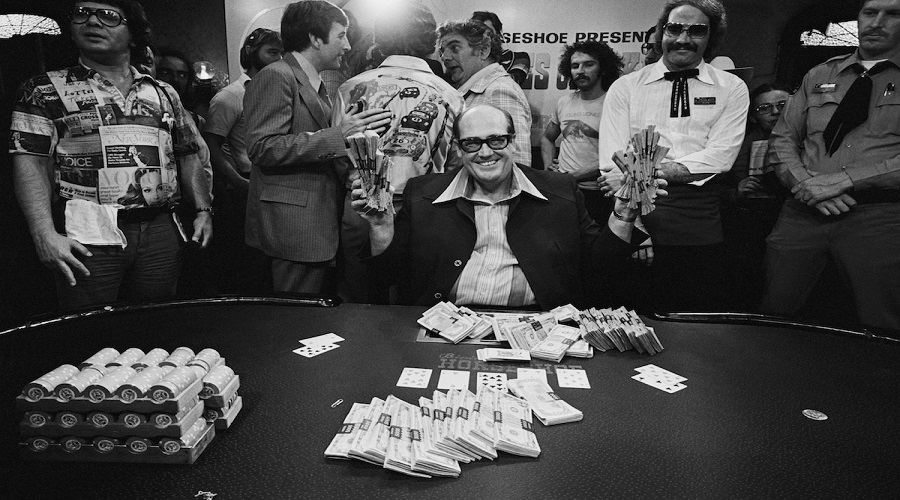 Born August 10, 1933, in Longworth, Fisher County, Texas, Doyle F. Brunson was one of the three children.
Cutting to his time in high-school, Brunson shone bright with his skills in basketball, leading him to join the All-State Texas basketball team. In 1950, at the Texas Interscholastic Track Meet, Doyle showed off his athletic capabilities and completed the one-mile event in an impressive time of 4:43. The athletic feat put him on the radar of many colleges.  Despite receiving plenty of offers, he attended Hardin-Simmons University in Abilene, Texas. 
With a basketball career in his sights and interest forming from the Minneapolis Lakers of the NBA, Brunson's dreams were shattered with an unfortunate knee injury that prevented him from making it as a professional basketball player. Brunson continued with his studies and received a bachelor's degree in 1954 and a master's degree in the following year with a focus on administrative education. 
Before his career-changing injury, Brunson had begun playing poker socially. Five-card draw was his favorite game. But with medical requirements comes expenses.  Before long, Brunson was playing more regularly to help cover his bills. 
After graduating from college, Brunson accepted a job as a business machine salesman, but the employee didn't last too long. On his very first day, Brunson was invited along to play in a seven-card stud game in which he won more than a month's salary. Seeing the potential and the talent that he had for the game, he soon left the company to pursue a career as a professional poker player. 
Family life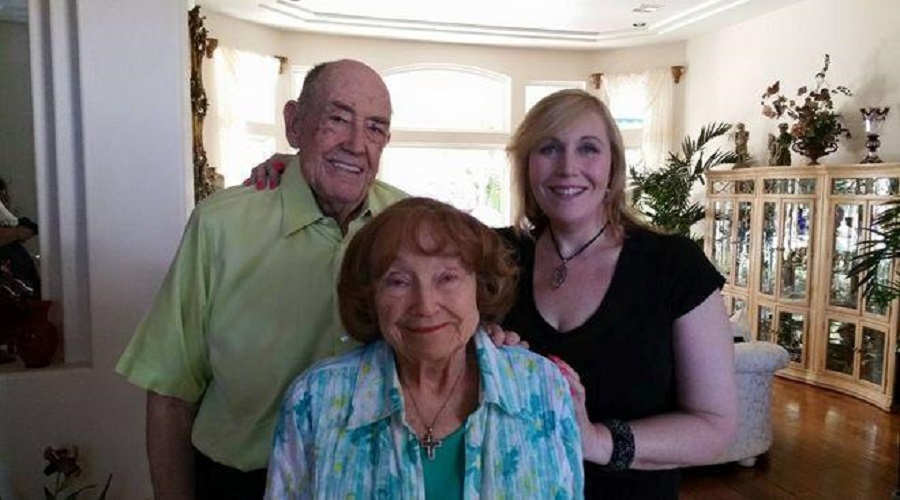 A self-confessed family-man, Brunson values time spent with his family the most when spending time away from the table.
Meeting Louise, his wife, in 1959, the pair were married in August of 1962.  Louise became pregnant with their first child later that same year. But it wasn't such a happy time for Brunson; a tumor was discovered in his neck. 
Surgeons, unfortunately, found that the cancer had spread, but with the knowledge that an operation could prolong his life long enough to see the birth of his baby, Brunson accepted and went ahead with the surgery. Thankfully, there was no trace of any cancer following the surgery and Brunson quickly returned to full health. 
Brunson was thankful for and attributed his cure to the prayers of his friends and family alongside their correspondence with the self-proclaimed Christian faith healer, Kathryn Kuhlman. Louise developed a tumor shortly after but when under the knife, she too was found to have no traces of cancer, again thanking prayers and the healer for their luck. 
Doyla, the couple's daughter was diagnosed with scoliosis in 1975, but her spine miraculously straightened within three months. Unfortunately, at the age of 18, she passed away as a result of a heart-valve condition.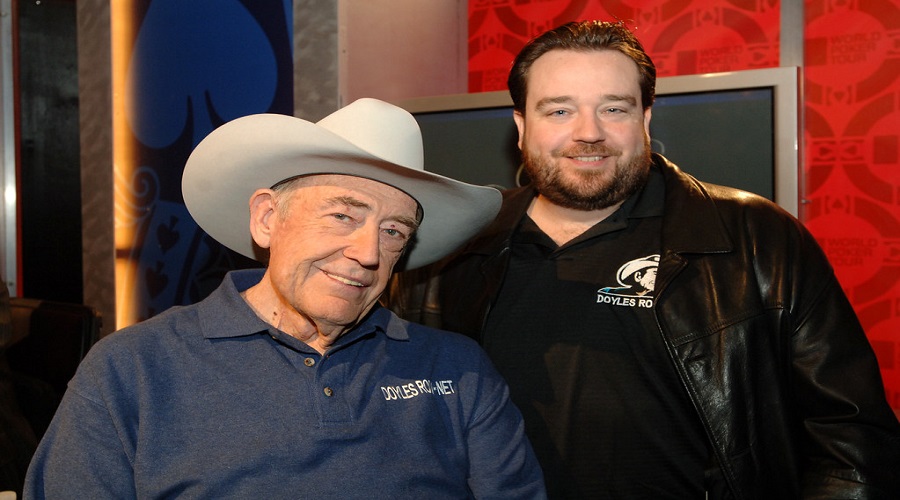 Their son, Todd, followed in his father's footsteps and worked to become a professional poker player, winning a bracelet in Omaha Hi-Lo during the 2005 World Series of Poker. Not only was this an impressive feat in itself but it gave the pair the title of the first-ever father-son duo to win World Series bracelets. Despite never winning, his daughter Pamela played in both the 2007 and 2009 WSOP Main Events, outranking both Doyle and Todd in both tournaments. 
The early poker career of Doyle Brunson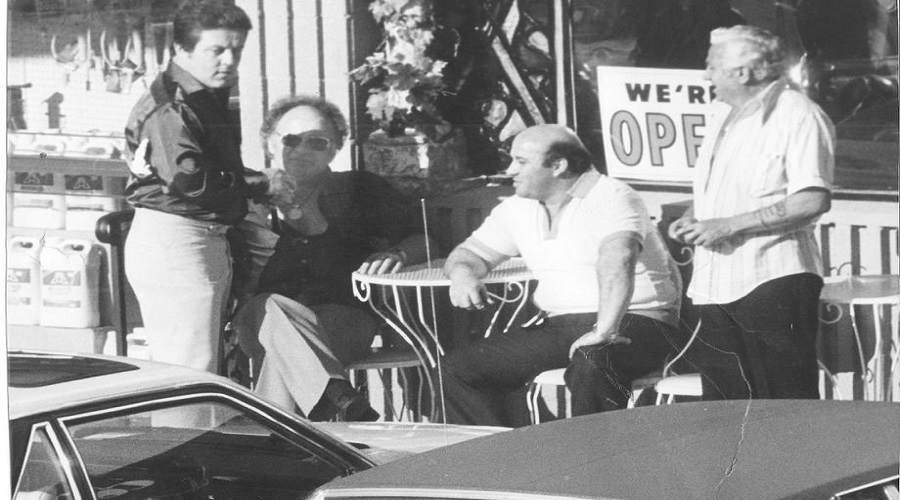 With such a long career in poker, there are countless highlights, stories, and bits of info surrounding Texas Dolly. 
Brunson got his poker playing start in the illegal gaming scene on Exchange Street in Fort Worth with a good friend, Dwayne Hamilton. 
Before long, the two were getting too big for the nest and began traveling Texas, Oklahoma, and Louisiana playing bigger and better games. It was during this time that the pair met fellow professional players Amarillo Slim and Sailor Roberts, but with members of organized crime gangs running the games – it didn't matter how many friends were seated around the tables. Brunson tells tales of having a gun pulled on him several times and being victim to robberies and assault when playing with the dodgy dealers. 
Eventually, Hamilton moved back home to Fort Worth, leaving a trio of players standing who teamed together and gambled on, what Doyle describes as, 'just about everything'. By pooling their money from 6 years on the road, the group made their first serious trip to the fabulous Las Vegas strip. But luck wasn't on their side and a full six-figure amount was lost. The trio then separated as partners, but remain good friends to this day. 
But this didn't deter Brunson from pursuing jackpots in Vegas.  Before long, he was a regular at the poker rooms across the strip. 
Doyle Brunson's World Series of Poker (WSOP) highlights and bracelets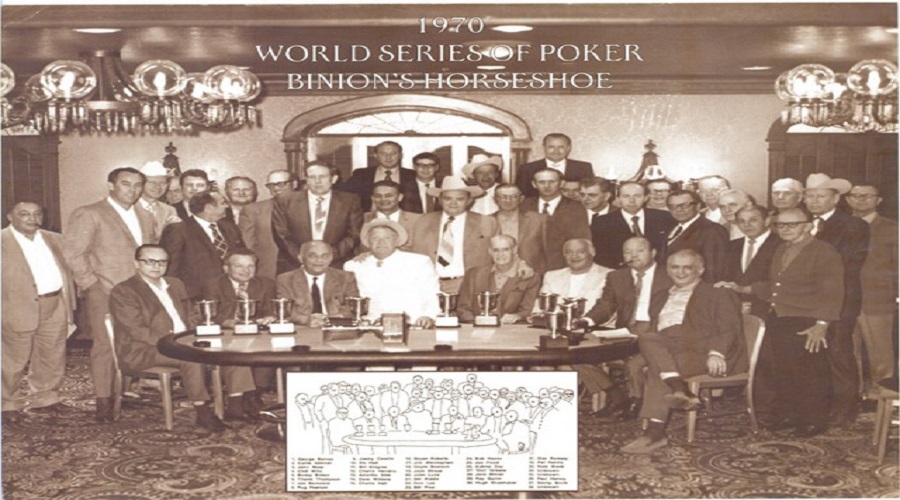 Brunson has been a regular player at the World Series of Poker (WSOP) since the very first tournament launched in 1970. 
Brunson has played in almost every Main Event in the years following until his retirement in 2018, a career filled with ups and downs. Brunson made some WSOP championship event final tables in the early years of the event, but since the event was winner-take-all around this time, these weren't classed as cashes. 
It wasn't until 1976 that he made his mark and took the win not once, but twice in a row; his second win was in the following year. By holding the 10-2, Brunson won both the 1976 and 1977 No-Limit Hold-em World Championship, birthing the name of his hand (the 10-2). 
It's not the only hand that bears the Brunson name. Thanks to the success of his book, Super System, an Ace and Queen of any suit is known as the 'Doyle Brunson'. In the book, Brunson states that he never plays this hand, however, when writing Super System 2, the statement was modified to state the Brunson tries to never play this hand. 
| | | |
| --- | --- | --- |
| Year | Tournament  | Prize (USD) |
| 1976 | $5,000 Deuce to Seven Draw | $80,250 |
| 1976 | $10,000 No-Limit Hold'em World Championship | $230,000 |
| 1977 | $1,000 Seven-Card Stud Split  | $62,500 |
| 1977 | $10,000 No-Limit Hold'em World Championship | $340,000 |
| 1978 | $5,000 Seven-Card Stud | $68,000 |
| 1979 | $600 Mixed Double (with Starla Brodie) | $4,500 |
| 1991 | $2,500 No-Limit Hold'em  | $208,000 |
| 1998 | $1,500 Seven-Card Razz | $93,000 |
| 2003 | $2,000 H.O.R.S.E | $84,080 |
| 2005 | $5,000 No-Limit Shorthanded Texas Hold'Em | 3$67,800 |
Doyle Brunson's full list of World Series of Poker (WSOP) Bracelets
From his time playing in the WSOP, Brunson boasts over $3,000,000 in earnings from a total of 37 cashes and 10 bracelets over 5 decades of play. With the number of tournaments won, this puts him firmly into second place for the most bracelets with Phil Hellmuth, the Poker Brat, as the only player to ever receive more. 
Retirement and final WSOP game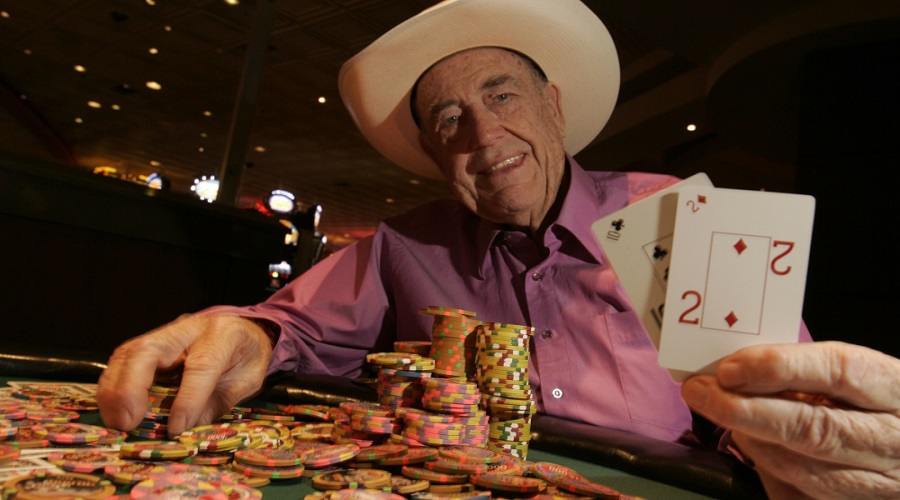 Brunson received a standing ovation for his very last professional game in 2018 $10,000 buy-in No-Limit 2-7 Lowball Draw Championship.
He tipped his hat, hopped on his electric scooter and was off to the parking lot of the Rio Convention Center where the game was held. His sixth-place finish was later confirmed by the Texas Dolly to be his last poker game, adding that he will no longer play in the famed Bellagio high-stakes cash game in 'Bobby's Room'. 
"I am going to quit poker because I've been married to the most wonderful woman (Louise) in the world for 57 years, and she's not in very good health, and I'm going to spend our last years together as much as we can," Brunson said. "I'm 85 myself, so it wouldn't be any big upset if I didn't wake up some morning. We don't have a lot of time, and I would like to spend it with her. That is my priority."
Brunson's other poker success stories
It's hardly a surprise that there plenty of other success stories that can be told by the poker legend.
Over his career, Brunson totaled over $6.1 million in tournament winnings with a combination of WSOP, WPT and countless other tournaments cashes. 
Perhaps the most noteworthy win of his career was during the 2004 World Poker Tour (WPT) in which he beat other legends to the final position and bagged himself a total of $1.1 million in prize money. This stands as the largest tournament winning that Brunson received over his career.  
| | | |
| --- | --- | --- |
| Year  | Tournament  | Prize (USD) |
| 2002 | WPT World Championship | $159,987 |
| 2004 | WPT Legends of Poker | $1,198,290 |
| 2005 | Five Diamond World Poker Classic | $563,485 |
| 2005 | WPT World Championship | $58,585 |
| 2008 | WPT Festa al Lago | $7,105 |
| 2008 | Doyle Brunson WPT Five Diamond World Poker Classic  | $23,420 |
| 2010 | WPT Five Diamond World Poker Classic  | $33,785 |
| 2010 | WPT World Championship  | $37,167 |
Doyle Brunson's list of World Poker Tournament (WPT) prizes
One of Brunson's favorite places to play is in the Mecca of poker within 'Bobby's Room' and the Bellagio. With the common game of choice of a $4,000/$8,000 limit mixed poker game as Brunson's regular. 
Other tournaments of interest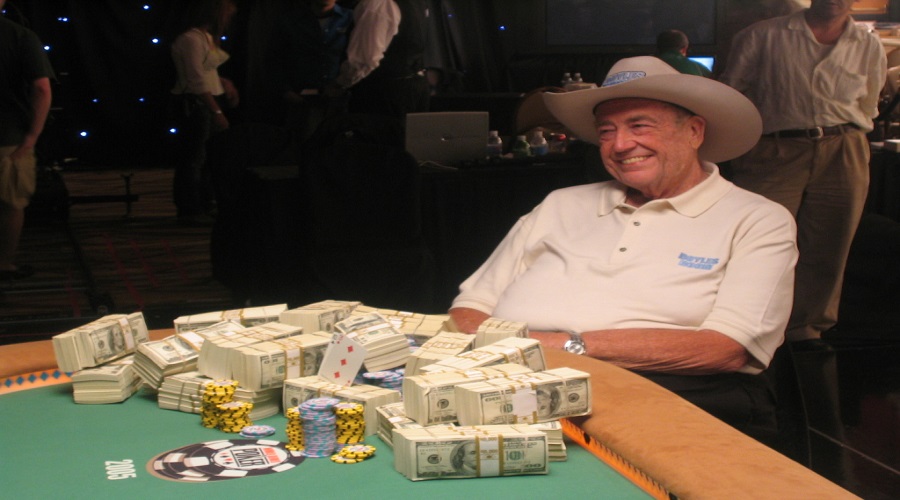 With a career spanning over 60 years at the tables, it's hardly a surprise that there ars a huge number of tournaments of interest ranging from small pots to huge wins: 
1979
Second place in the $1,000 Ace to five Lowball at Amarillo Slim's Superbowl of Poker, Las Vegas winning a total of $13,500
1981
Second place in the $10,000 Deuce to Seven Lowball at Amarillo Slim's Superbowl of Poker, Las Vegas winning a total of $27,000
1984
First place in the $10,000 No-Limit Deuce to Seven Lowball at the Annual Jack Straus World Match Play Championships, Las Vegas winning a total of $57,500 
1986
First place in the $10,000 Deuce to Seven Lowball at Amarillo Silm's Superbowl of Poker, Las Vegas winning a total of $43,500
1987
First place in the $1,500 Pot-Limit Omaha event 

Third place in the $10,000 No-Limit Hold'em of the America's Cup of Poker winning a total of $55,000
1993 
Third place inthe $5,000 + 80 No-Limit Hold'em Championship Event, Queens Poker Classic III, Las Vegas winning a total of $50,400
1994
First place in the $5,000 Chinese Poker World Championship for $40,000

First place in the $2,500 + 60 No-Limit Hold'em Queens Poker Class Summer Edition, Las Vegas winning a total of $128,000
1999
Fourth place in the Tournament of Champions, Mixed Games, Las Vegas winning a total of $42,909 
2002
Fourth place in the $2,000 + 80 No-Limit Texas Hold'em at the Third Annual Jack Binion World Poker Open, Tunica winning a total of $16,180
2004
Second place in the $1,500 + 70 No-Limit Hold'em Fest al Lago II Poker Tournament, Las Vegas winning a total of $62,994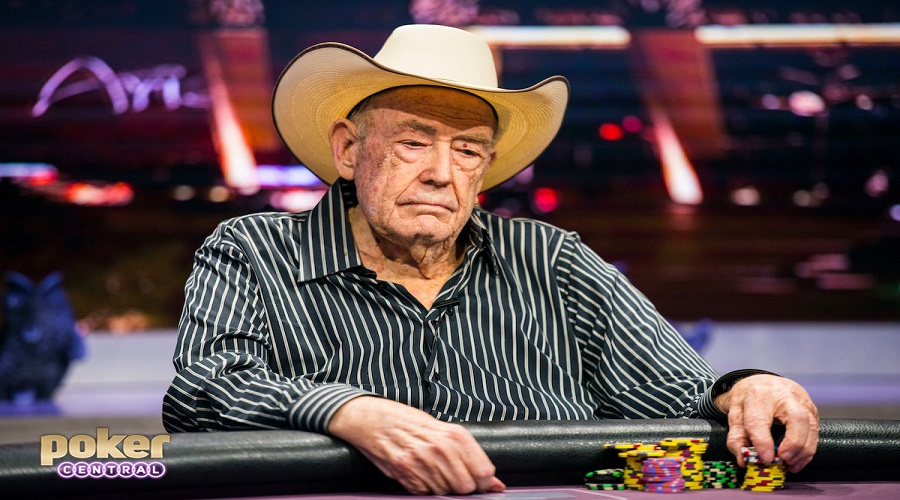 2005
Third place in the $15,000 + 300 main event – No-Limit Hold'em

Third place in the PPT No-Limit Hold'em final, Third Annual Five-Star World Poker Classic, Las Vegas winning a total of $60,0000

Seventh place in the $ 400,000 Grand Final, Poker Superstars Invitational Tournament, Las Vegas winning a total of $150,000
2007
First and third place in two events of Poker After Dark II, Las Vegas.

Three cashes, 4th, 5th, and 6th place in Poker After Dark, Las Vegas.
2008
Second place in the $ 20,000 Week 2 – Nets vs Vets, Poker After Dark IV, Las Vegas.

Fifth place in the $ 20,000 Week 5 – "Cowboys" Poker After Dark III, Las Vegas.

Third place in the $ 20,000 Week 2 – "19th Hole",Poker After Dark III, Las Vegas.
2009
Fourth place in the $ 20,000 Week 11 – Magnificent Six, Poker After Dark V, Las Vegas.
2010
Fifth place in the $ 20,000 No-Limit Hold'em NBC National Heads-Up Championship 2010, Las Vegas winning a total of $75,000.
Poker books authored by Doyle Brunson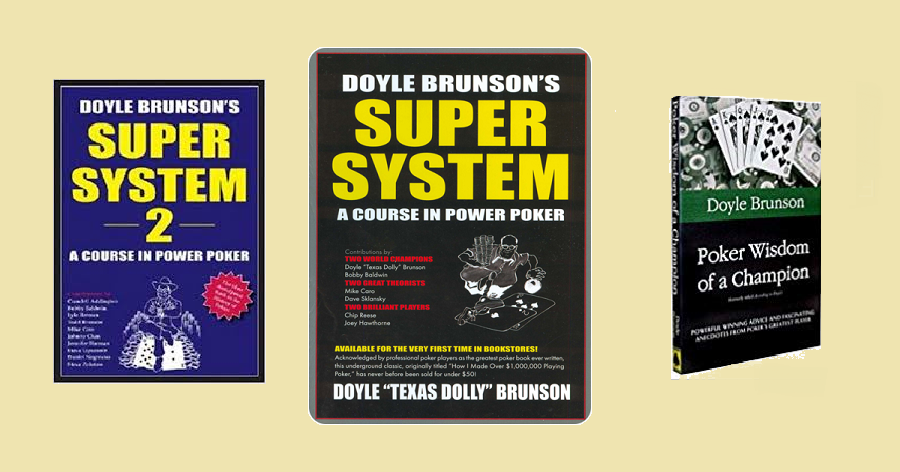 Brunson not only kept his attention turned to the beautiful game during his time as a professional, he also documented the game with pen and paper. 
In his time, Brunson has authored a total of 9 different books including 'Poker Wisdom of a Champion', 'Online Poker: Your Guide to Playing' and 'My 50 Most Memorable Hands'. His earlier work stands as the most famous: 'Super System' and 'Super System 2'. 
Super System / Super System 2 
Originally self-published in 1978, Super System was Brunson's first attempt at writing and is widely regarded as one of the most authoritative books on poker. 
The book is credited with transforming poker by giving insight to regular gamers around the world into the way professionals play. The book was so effective that Brunson himself believes that just by writing it, he has cost himself a lot of money over the long term. 
An updated version was published in 2004 named Super System 2 and includes plenty of top players' contributions including Bobby Baldwin, Mike Caro, and Chip Reese.
A costly mistake ($230 million to be exact)
It's not unusual for poker players to make mistakes both at and away from the table, but Brunson really takes the cake with a huge $230 million fluff. 
Capitalizing on his name as one of the biggest poker players to take to the table, Brunson launched Doylesroom.com in 2004, a sure money-maker at the height of the online poker boom. Everything was in order and several big-name stars including Steve Gross and Amit Makhija were on board to make the site a serious success. 
Doyles Room was doing well, Brunson was happy and as the main shareholder with 50% of the control, there was no reason he shouldn't have been. It wasn't long before other companies started sniffing around and Texas Dolly was approached with an option to sell the site.  Blind to the negatives that the future could hold – he declined what would have had made him a cool $230 million. 
It all comes crashing down 
In April 2006, the famous Unlawful Internet Gambling Enforcement Act (UIGEA) was enacted, ruining just about everybody's fun and dropping the site's value to nothing inside a 24-hour period. The site stayed open a little longer but on May 26, 2011, Doyles Room was seized as part of an investigation covering the violation of gambling laws. 
In October of the same year, Brunson cut all ties with the site. It was acquired by America's Cardroom. Brunson has yet to make another move in the online casino market.
Daniel Negreanu's similar misfortune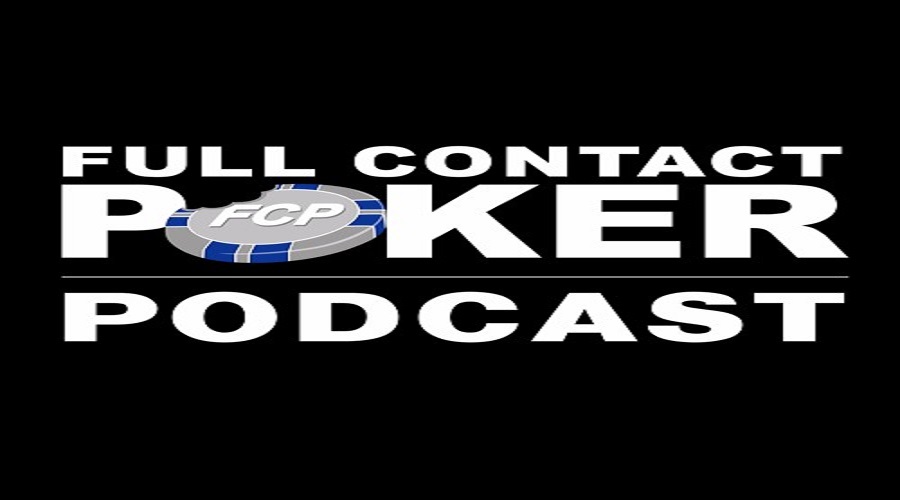 Brunson could maybe find comfort knowing that he is not alone with his multi-million dollar misfortunes. Black Friday (April 15, 2011) and UIGEA also claimed a victim – Daniel Negreanu, another professional poker player. Negreanu founded Full Contact Poker and financed it almost entirely from his own funds and was offered $170 million for it just 6 months later. 
Not a bad sum of cash, but the offer was retracted just 3 days later due to the darkest day in the history of online gambling. 
Securities and Exchange Commission (SEC) Investigation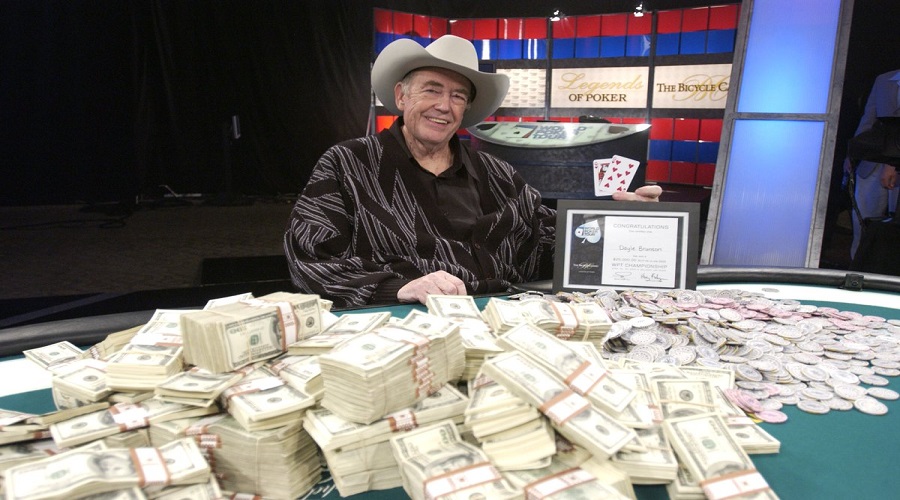 Brunson, along with fellow poker player Phil Hellmuth, was involved in a little controversy and drama – only Texas Dolly's investigations weren't regarding the other players around the table. 
On December 14, 2005, the Securities and Exchange Commission (SEC) filed an action enforcing subpoenas issued to the attorneys of Doyle Brunson. The investigation was launched as a result of Brunson's offer to buy World Poker Tour (WPT) Industries at a high premium over its then market value. 
Brunson's offer of such a large overpayment, caused alarm bells to start ringing for the Commission, especially with Brunson's PR team and website he endorsed publicly announcing the offer. With such coverage, the Commission stated that he was directly responsible for the steep rise in WPT stock on record trading volume. 
To add an extra layer of potential foul-play, Brunson's lawyers stopped replying to the WPT and the media. Brunson then withdrew from the engagement. The WPT publicly disclosed both Brunson's and the law firm's unresponsiveness, creating stockholder confusion. This, in turn, caused a rapid fall in the stock price, costing investors tens of millions of dollars. The offer was then left to expire under its own terms. 
The formal investigation of Brunson's offer was formally processed with the publication violating several federal security laws. Among these were the anti-fraud provisions of the Securities Exchange Act of 1934. 
In response to the investigation, Brunson declined to testify, exercising his Fifth Amendment right against self-incrimination. However, it was later discovered that Brunson had directed his lawyers to withhold certain documents and not testify in critical areas of the offer, under the attorney-client privilege and work product doctrine. 
Ultimately, the case was dropped by the SEC in 2007, but it was no doubt a stressful time for Texas Dolly.