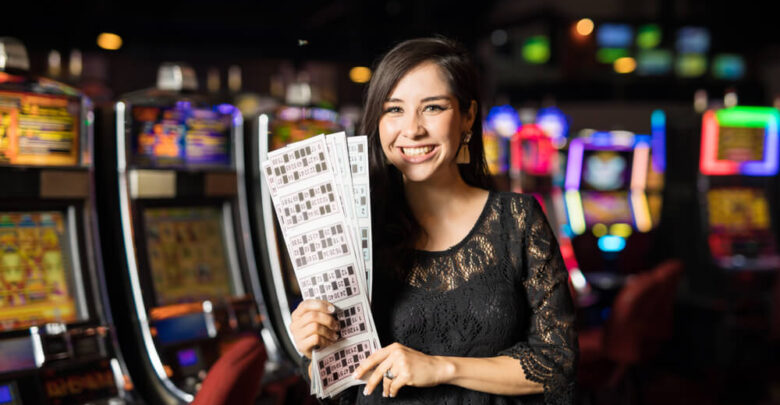 Have you ever wondered if anyone really wins big at online casinos? As it turns out, there are many jackpots claimed by ordinary people all over the world. Here is a look at a few winners from the UK.
A woman from Carlisle, United Kingdom hit a jackpot in November 2021. She was playing at the popular online bingo site Meccabingo.com when she won the massive prize. The lucky player, who was identified only by her online chat name of "Schmell," had only spent 90p to get into the game that resulted in the life-changing top prize.
What makes this win even more amazing is that Schmell was not immediately aware that she had earned the jackpot. It wasn't until she received numerous messages of congratulations in the Meccabingo.com chat room that she became aware that her online account at the site had ballooned in size to reflect the win.
With so many new bingo sites online, there are many opportunities to hit it big with internet games of chance just as Schmell did. As for how she plans to spend her winnings, the bingo winner stated, "I was so surprised when I realized that I had won…my husband was the first person I told, and we celebrated with a nice takeaway to bring ourselves back to reality!"
Her additional plans are to use a portion of the large bingo prize to pay off some of her existing house mortgages and then to purchase a new car. Head of Public Relations and Content at Meccabingo.com, Catherine Warrilow stated, "We're so happy for our fabulous winner and hope that she enjoys spending her winnings on a brand new car."
About Meccabingo.com
Meccabingo.com is part of a much larger bingo and casino company. Established in 1961, Mecca Bingo currently operates 76 different bingo clubs in the United Kingdom. Formerly known as Top Rank, Mecca Bingo is owned by the Rank Group. This organization operates bingo clubs, casinos, and online gambling sites in other parts of the world including Spain, Belgium, and the UK. Mecca Bingo expanded in recent years to include meccabingo.com along with several mobile gambling apps.
Mecca Bingo is the largest National Bingo Game operator in the United Kingdom and recorded revenue in June 2015 (the most recent public information) of over 224.4 million GBP which included a profit of 28.9 million GBP. The company states that they have an annual customer base above one million players with digital revenues totaling 65.2 million GBP. The Mecca Bingo network also employs over 11,000 people across the UK.
The Mecca Bingo bingo halls contain both traditional and electronic versions of bingo. There are also various slot-style games on site. The company holds two gambling licenses, one from the United Kingdom Gambling Commission, with the other from the Alderney Gambling Control Commission. Mecca has also won several awards over the years including the Bingo Operator of the Year award in 2014, 2015, and 2016 plus a customer service award in 2017.
Other Big Winners At Mecca Bingo
Although the 45,959.54 GBP win noted above by Schmell is impressive, it pales in comparison to the win recorded in January 2021 at the same site. An unidentified Cheshire woman walked away with an incredibly huge jackpot of 568,467.26 GBP from a 5-pound stake. She was playing the Cleopatra Mega Jackpots video slot machine at the time of the huge win.
The 43-year old mother works as a kitchen assistant at a primary school and had experienced a rough year in 2020 with no guarantee of set hours. The slot jackpot gave her the cash she needed to move out of the rental home she has been living in and fulfilling her dream of homeownership. Upon having her win confirmed by the casino, the lucky winner celebrated with a bottle of prosecco with her adult daughters.
In November 2021, an anonymous Sunderland player won 50,000 GBP in the National Bingo Game at the Mecca Bingo hall in his hometown. What made the win even more incredible is that it was the first time this player had gambled at bingo at this site. The General Manager of Mecca Bingo Sunderland stated, "It's such an amazing occasion when someone calls House on the National Bingo Game. We're absolutely thrilled for the winner."
And finally, in November 2019, a lucky Seaham woman ended up collecting her second big jackpot in ten days. Her first win was 597,000 GBP and that was followed up just over a week later with a win of 552,000 GBP. She deposited 100 pounds into her account and won the second jackpot a few hours later. In response to the win, the unidentified mother said, "I was in utter shock when I won the first time and when I continued to play online I didn't expect to win anything at all, let alone another large sum of money."
She was a regular at the Mecca Sunderland site but eventually switched to online bingo. The mother of two says she will be sharing a lot of her total winnings with her family. According to James Boord, the Meccabingo.com Digital Director, this could not have happened to a better player. "We're delighted for the winner, what a fantastic stroke of luck she has had. It's a great feeling when someone wins big and it changes their life."
Other Promotions and Prizes
Meccabingo.com provides online players with many different ways to win and that includes their 4th annual Dream Come True promotion. Prizes awarded range from big-screen televisions, iPads, and iPhones to bingo for a year, nights out, and other fabulous prizes so it is not just big cash jackpots that attract players to these types of online bingo casino sites.
Final Thoughts
If you have ever dreamed of winning a massive jackpot online but thought the ones you read about online were fake or untrue, reputable sites do exist where the winners are real and the prizes are big. You just have to do some homework first before choosing a site to join. Fortunately, there are a lot of safe sites online that are waiting for players like you to join.