Casino News
Industry News
5 Cool Comics-Based Slot Games to Check out This Fall
Because it is time to wake up the inner child and the adventurous spirit in each of us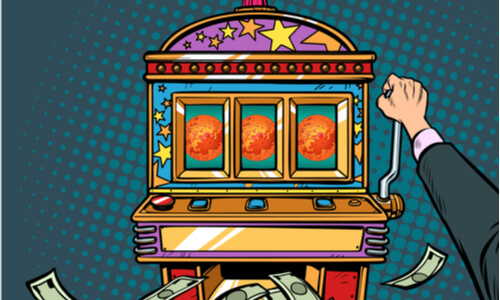 Slot games have improved tremendously over the years, with top gaming software developers churning out sleek slot titles with visually-appealing graphics, sophisticated themes, and engrossing sound effects. They are certainly more fun and exciting to play than their "one-armed bandit" ancestors.
In the entire history of slot machines, now is perhaps the best time to play this exhilarating casino game. They currently feature lucrative network jackpots, hassle-free mobile play, multi-payline gameplay, cinematic animations, and other state-of-the-art casino technologies. Best of all, you can pick from a variety of fun themes to fit your personality and gaming lifestyle.
If you're into comics' culture, you'll find a wide selection of slot games based or inspired by the theme. Today, we've compiled 5 cool comics-based slot games you don't want to miss out on.
1: Batman & Catwoman Cash Slot Game
Batman & Catwoman Cash is one of the most popular and highly played slot games in recent years. It's part of a series of slots produced by software titan Playtech in collaboration with DC Comics. The software provider has already launched 6 slot games in the series, all of which are loosely based on the 1960s Batman TV series.
Like its namesake comic book, the slot game sports the caped crusader, Batman, and his loyal sidekick Robin. Titles in the Batman series have also delivered some big slot wins, and Batman & Catwoman Cash is probably the most rewarding of them all. That's because the slot game has four progressive jackpots that you can win in the randomly activated jackpot bonus game.
Even more exciting, Batman & Catwoman Cash shares these progressive jackpots with a number of other on-network DC Comics slots. This allows the grand prize to balloon well beyond $1,250,000 before it's clinched by one lucky slot gambler.
Playtech went above and beyond to make Batman & Catwoman such an entertaining and captivating slot game. The attractive retro theme plays out beautifully on the 5 reels with 15 fixed bet lines. When three scatter symbols land the payline, you will get free spins that can be multiplied up to five times.
The stand-out features, however, are the Wild cards, stacked symbols, and the scatters. Robin, Catwoman, and Batman can be stacked for up to 3 positions. Overall, this is certainly a hit comics-themed slot game that you don't want to miss out on.
2: Thors Hammer Slot Game
Thors Hammer is a decently-popular yet super-cool slot game from Bally Wulff and loosely inspired by Thor Odinson, a fictional Norse god of the same name. The character appears in a superhero book series that put Marvel Comics on the comics map.
Whereas there are numerous slot games that pay homage to Thor Odinson and his legendary hammer, this is one of the higher-quality variants. The five-reel slot has 40 paylines, dual gamble features, amazingly-enticing characters, and an impressive return-to-player (RTP) of 96.09%.
The slot game not only boasts notable payouts, but it is also packed with excellent features, such as free spins and free games with stacked wild symbols. The paylines are customizable, so you can play the whole 40 lines or half it down to 20. And the best part is that you can bank up to 3,000 coins per spin.
If you're a fan of progressive jackpots, however, you may have to look elsewhere. Even so, what makes Thors Hammer a great slot is the straightforward gameplay along with exciting bonus features.
3: Hellboy Slot Game
The Hellboy slot is another comics-based slot game themed after a similarly-named Dark Horse comic book series. You are probably more familiar with a blockbuster film of the same name starring Ron Perlman.
As with most themed slots from Microgaming, the design team went all in to make everything about the game spectacular. Every feature that makes a great slot is incorporated into the game. Even the elusive bonus round is more elaborate and more enchanting than what you'd expect from other slots. The result is unsurprisingly what other slots should dream to be.
We absolutely love the sticking wild symbols that provide you with an opportunity to multiply your wins. The slot game is also perfect for both beginners and seasoned players because you can wager from 20¢ to $50 per spin. Hellboy should be right at the top of your wishlist if you have a thing for comic book themes.
4: Man of Steel Slot Game
Based on the high-grossing Man of Steel film released in 2013 by DC Comics, this is undoubtedly one of the best comics-inspired slot games from Playtech. The slot follows in the footsteps of the movie, with symbols represented by familiar characters. 6 of these characters will reward you with up to 1,000 coins when they land on the reels.
Man of Steel is a pretty modest slot game that caters comfortably to all types of players, from the conservative enthusiast to the high roller. You can stake from as little as 50¢, up to a maximum of $2,500 per spin.
Aside from the excellent bet range, this slot offers four randomly-triggered progressive jackpots that can pay out a life-changing sum of $1 million. It has just as many special features, including free spins and a bonus game. The 50 paylines are adjustable, so you can play anywhere from 25 to 50 coins a spin.
5: The Matrix Slot Game
The Matrix movie has become so popular since it was released in 1999 that it's now a cult classic. The Matrix slot is another hit sensation from Playtech that takes inspiration from this blockbuster. It features 50 bet lines spread across standard five reels, so it offers multiple ways to win bankable amounts.
While it has an average RTP, The Matrix has what's called Déjà vu Shuffle, an enthralling bonus mode with guaranteed big payouts up for grabs. As for the visuals, the slot sure packs a punch, offering up elegantly-rendered animations and well-trimmed visuals. Matrix fans will love the short snippets from the famous movie.
Graphics aside, the Nebuchadnezzar free games feature is definitely something worth checking. It offers you a chance to garner unlimited free spins that go perfectly well with the frequent payouts.