Society
5 of the Biggest Progressive Slots Jackpots Ever Won
Some people win big when playing slots game. Really big!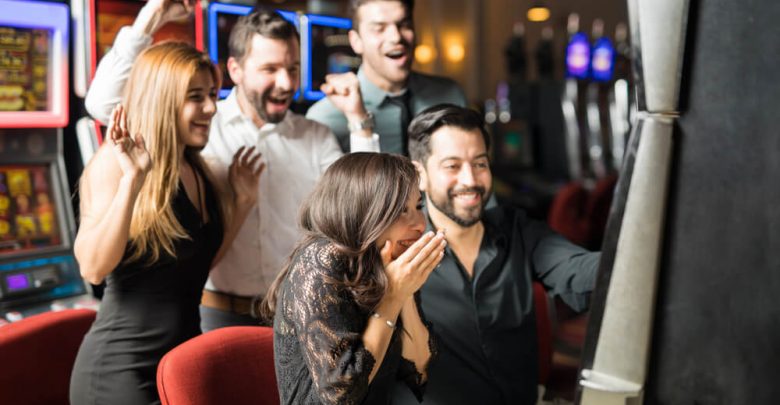 If there's one category of slot machine that you could win just one time, then a progressive jackpot would be at the top of your list ten times out of ten.
There are many progressive jackpots out there and this range is another reason why they are so popular (along with the massive prize of course). Anyone can win. All it takes is that one lucky spin and your life can change forever.
You never know when that jackpot will be won. Luckily for the people on this list, they were in the right place at the right time.
Here are five of the biggest progressive slots jackpots ever won.
5. Mega Moolah Mega: €14,679,069
On August 17, 2020, the €14,679,069 prize was won on the Mega Moolah Mega progressive jackpot game at Lucky Casino. The prize was well above the average jackpot for this particular game and was only the 67th time that the jackpot has been won, which roughly works out to a win every eight weeks.
The technology behind the Mega Moolah Mega Jackpot, operated by Microgaming, connects several other slots together (the Mini, the Minor, the Major and the Mega) to increase the main prize after every spin. The jackpot is triggered during a random bonus round and there is no minimum bet required. 
Of course, it should be noted that Mega Moolah Mega is only available at safe and legitimate online casinos. Always do your research and use sites like SlotsJudge to track the performance of the best online slots before deciding where to play online.
4. Mega Moolah Mega: £13,212,882 
On October 6, 2015, one soldier from the UK was lucky enough to take down one of the largest progressive jackpots of all time, taking home £13,212,882 from playing Mega Moolah Mega at Betway.
The player in question was 26-year old Jon Heywood who was serving in the UK army with experience in Afghanistan. He decided to take his shot at glory with a casual 25p spin. But what followed was a prize that would change his life forever.
Here's Jon's reaction to the win:
"It's all so surreal, and I can't come to terms with it just yet, I just kept staring at my screen and seeing this huge number in my Betway account." 
Microgaming CEO, Roger Raatgever, commented on the win himself: 
"We have the longest-standing progressive jackpot network, having launched the first internet progressive jackpot in 1998, as well as the biggest, having paid out over half a billion Euros to date. Our progressive jackpot network has set many records since its inception, but I'm absolutely overjoyed to say that our software has generated the world's largest ever online jackpot win. Many congratulations to Jonathon on this life-changing and historic win!"
3. Mega Moolah Mega: $20,057,734
Up next is a staggering $20,057,734 win on January 30, 2019. It was picked up by a player at Zodiac Casino, but the winner decided to remain anonymous. The time of the win meant that Microgaming had paid out over €1 billion in prizes since the game's release and the company is just as happy as the winner:
"What an astonishing milestone for Microgaming's progressive jackpot network!" said Microgaming CEO John Coleman. "We are incredibly proud to see total payouts exceed the €1 billion mark – congratulations to all the lucky Mega jackpot winners who have been part of this remarkable story. The network has been awarding life-changing wins since 1999, including thousands of five and six-figure sums, and we look forward to building on this remarkable success in the future with the development of even more innovative and rewarding gameplay experiences for players."
2. Mega Fortune Jackpot: €17,861,813.00 
A player from Finland won the second-biggest progressive slot jackpot of all time on January 20, 2013. The prize was won as Paf Casino but again, the winner decided to remain anonymous.
The record-setting amount picked up a lot of press at the time, with Per Eriksson, CEO of Net Entertainment, commenting on the win:
"This is our second world record jackpot in online gaming. The large liquidity within the slots with progressive jackpots enables the rapid growth of these jackpots, which is great news for the operators. We want to congratulate the winner of this record jackpot and hope to turn many more players into millionaires in the future."
Further, Anders Simmons, head of PR at Paf Casino, said the following:
"This win is completely off the charts for these kinds of games. The whole gaming world has been holding its breath during this fall and winter, while the jackpot has just kept on growing. As this jackpot was pooled, which means that it is shared by several gaming companies, we are naturally very happy about the fact that the jackpot was again won by one of our customers. Paf players seem to have an incredibly good flow at the moment."
1. Mega Moolah Jackpot: €18,915,721
The biggest progressive slot jackpot of all time was won on September 28, 2018. For the fourth time on this list, the jackpot came courtesy of the Mega Moolah Jackpot, resulting in a payout of nearly €19 million, more than €1 million more than the second-largest progressive jackpot of all time.
David Reynolds of Microgaming commented on this insane win:
"We've been on the edge of our seats in anticipation of the Mega Moolah jackpot being hit these past few weeks. Watching the jackpot grow has been exciting for us at Microgaming and we are immensely proud to see it set a new record. Congratulations to Grand Mondial Casino and their lucky player on this amazing win!"
Emma Hall, Promotions Manager at Casino Rewards, added:
"This is the moment we were hoping would come! And for the player to win the jackpot from a 75 cents bet in less than 50 spins is just incredible. For Grand Mondial Casino to land this gigantic jackpot, and be part of Casino Rewards group, which has had so many Mega Moolah winners in the past, we just couldn't be prouder and more pleased. Casino Rewards has seen five huge Mega Moolah winners in the past 12 months and now our sixth winner has absolutely smashed all records yet!"