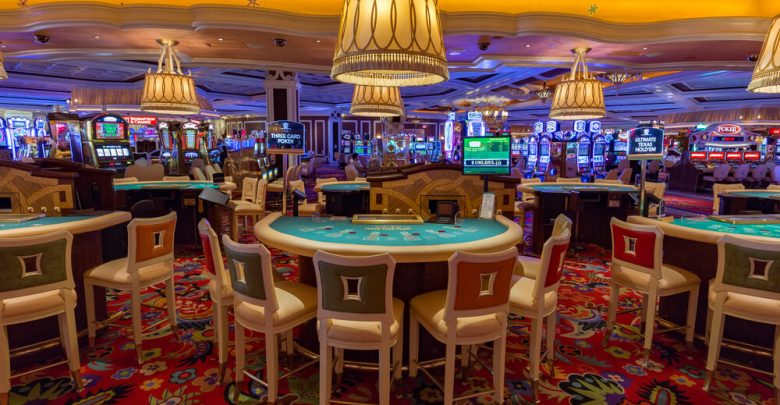 Florida's poker rooms have reopened with new safety measures in place to prevent the spread of the coronavirus.
Though poker is now making its comeback in Orange City, customers are being met with a completely different environment to what they're used to.
Players must now be temperature and ID checked at the door, and all guests and staff must wear masks. Players showing any coronavirus symptoms will be dealt out and asked to leave.
General manager at the racing and card clubs in Orange City and Daytona Beach Fred Guzman said it was good to be back after closing down in March.
He told Fox News: "It's great to bring back my employees to work. We limited the number of hours that we're working, we limited the number of tables for social spacing. Everyone sitting at that table will be sanitized."
Unlike other rooms, there will be no protective screens around tables. Hand sanitizer will be placed at each poker table, and guests will have to sanitize every time they return before touching the cards.
Guzman said the chips and cards are also being changed regularly for new ones, with specialized cleaning crews working around the clock the scrub everything down. Staff working hours have been limited to protect them.
He added: "People want to get out, want to enjoy themselves; we're trying to do it in a responsible safe fashion." Poker rooms are hoping to expand operations as lockdown restrictions continue to ease, but say they are happy enough just to have their dealers shuffling again.
Meanwhile, professional poker players have expressed their doubt at jumping back into the fray immediately.
Alongside various other rules on cleaning chips and scanning guests, some gaming boards across the US have limited the number of players to a poker table to just four.
Executive tour director of the World Poker Tour Matt Savage has shared his worries about the new rule. While Savage was concerned people simply wouldn't want to play, he also pointed out how difficult it would be to keep a poker room profitable.
A reduced rake means reduced earnings, while the same number of dealers and other employes will still be required to work (and be paid for their time).
It will also be much easier for players to conceal their bluff, staying distanced from others and with a mask covering their face. Savage has since said six-handed games would be much better all-round and is hoping gaming boards will revisit the guidelines and make changes.
Poker rooms also have to weigh up the threat of online gambling, which has surged in popularity over the course of the lockdown. Online poker proved to be of particular interest for those in the US, with interest tripling from its figures at the beginning of 2020.
Online poker rooms saw a record 255% increase in new players in March, as players stayed home and found new free time to spend gambling online.
This hasn't stopped casinos and poker rooms from going ahead and reopening anyway. Las Vegas casinos opened their doors on June 4 after 78 days of closure. It was reported that venues were busy, and guests were sticking to social distancing rules.
Around a dozen table games were open at The Flamingo with players hoping to win big at poker. No more than three players were to a table. Even showgirls were seen wearing masks to match their costumes.
For now, Las Vegas casino will only be allowed to open at 50% capacity and plexiglass barriers must be fitted at all tables to protect both guests and staff. Slot machines, hand railings, cards, and chips must be sanitized regularly.