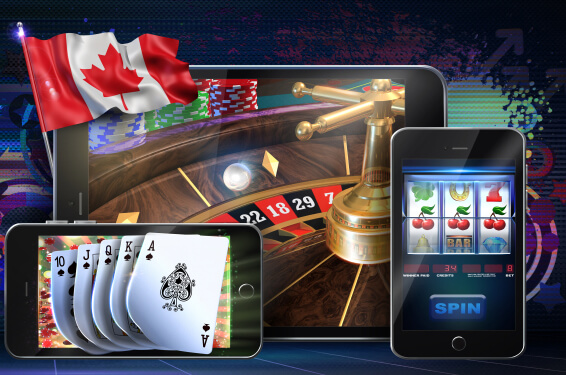 As far as online gambling markets go internationally, Canada happens to be one of the leaders. With roughly $15 billion in annual gambling revenue, Canada is quite simply one of the world's superpowers in the online gambling industry. Which makes sense since Canada is pretty good with various other industries that fuel the country's economy. In this article, we will take a closer look at what makes Canada so popular with gamblers, how online gambling fits into federal regulations, and why Canadians are so willing to toss their hard-earned pay at online gambling sites without hesitation.
The Attraction Of Online Casinos
Canada is a funny place at times. The landscape is littered with land-based casinos, bingo halls, racetracks, and you can buy virtually any kind of scratch card or a lottery ticket in almost any retail business including drugstores, grocery stores, and kiosks set up in high traffic locations in most shopping malls. Clearly, Canadians like to gamble. But with so many physical options, why are so many Canucks turning to the internet for the same thing? It doesn't make sense if you have a bingo hall downtown or a corner food mart when you can drop a few loonies on several scratch tickets.
But if access is the issue, and let's face it, on a -30 degree night with a fierce blizzard blowing through town, the last thing anyone wants to do is bundle up just to get to Tuesday Night Bingo. So, the internet has given Canadians a reason to be lazy and relax in front of a steaming hot TV dinner and the desktop computer to play some online slots or video poker. Not only is it easier, but for Canadians living in remote regions of the Great White North, an online casino is as close as many of them will get to the real thing. The internet has given everyone in Canada a way to gamble like they never had before.
The COVID Connection
We can't forget that the pandemic forced bingo halls, casinos, and all gathering places to shut down for several months in Canada. That pushed some gamblers to the internet where they had never been before. It also saw online casino operators cluing into the potential of new revenue streams while people were locked in their homes socially isolating. This led to the development of a lot of new games and themes for existing games. The lockdowns also provided a good reason for many Canadians to start working from home and slipping in a little online gambling during lunch hour or breaks in the day.
The Way Gambling Is Regulated In Canada
The Canadian Federal Government regulates gambling of all forms in the country with the Canadian Criminal Code but enforcement is left with each province and territory. Each province and territory has a gaming control commission, each with a different name, which oversees the licensing of gambling outlets, the gaming activities, and operates online gambling opportunities. This means that private gambling operators wishing to launch an online gaming site will not be able to as the provinces control everything. British Columbia led the way with the establishment of the BC online gaming portal in 2001.
Not all provinces and territories have their own online gambling sites, and players must be residents of the province or territory they access the games from. That is because the game options, portal access, and more differs from one province to another. That is to say, a player in British Columbia would not be able to access the Alberta gambling site based on geographic location. What this has done, is pushed many Canadian gamblers to join offshore sites that are based in places like Curacao, Macau, and Malta. Offshore sites are considered illegal in Canada, but enforcement of that is light.
Why The Online Casino Industry Is Growing In Canada
Three key factors are driving the online gambling industry in Canada. They include:
Minimal Deposit/Wagering Requirements
Online casinos that Canadians can access are rather easy-going in that they will let just about anyone become a member regardless of budget. For example, many $1 deposit casinos in Canada permit players to play with hardly any money. The wagering requirements are relaxed which is not common with standard online casino sites.
Incredible Promotional Offers
Canadians love bonuses and extras and online casinos have a way of creating the right combination of these to attract new players. Always check the Terms and Conditions to learn more about the incentive programs in place at the online casino you intend to join. VIP and Loyalty Club programs are also excellent tools in retaining existing players.
Easy Access Whenever You Want To Play
Probably one of the most important factors related to online casinos in Canada is that they are always open. This was particularly true when the pandemic peaked and caused shutdowns and capacity limits at land-based casinos. That permitted online gambling sites to become a safe, logical alternative for Canadian gamblers who could not get to their favorite venue.
Final Thoughts
While online casinos are becoming all the rage around the world, Canada has become a leader in the industry. However, it isn't because Canada is so open to the concept of online gambling (it's heavily regulated there), nor is it because Canadian software developers are creating new and amazing virtual games (well, some of them are). What has put Canada on the online gambling industry map is how much money gamblers in the Great White North have spent annually to get their gambling fix through the internet. Canadians really like to gamble. For many, it is much more than a serious pastime, it is almost like a job. Every land-based casino and bingo hall in Canada have their regulars, well, many of them have shifted their focus to online gambling and having a blast doing so. Considering that the Canadian Federal Government has no solid regulations to deal with online gambling, Canadians continue to play games wherever they are accepted, and in most cases, that means at offshore (technically illegal) sites.