Industry News
NFL Draft Expected to Generate the Largest Betting Streak Ever This year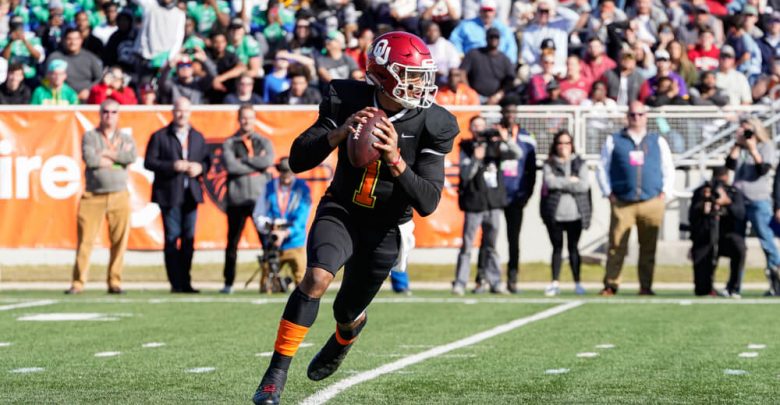 The 2020 NFL Draft is expected to generate the largest betting streak ever, mainly because all the other sporting events have either been postponed indefinitely or completely cancelled due to the coronavirus.
For those who like to bet on sports regularly, it finally gives them something to get excited about. It makes for a nice change compared to having to make random bets on the Belarusian soccer league or some European table tennis that, apparently, is still going on.
The way the draft will operate will be a lot different compared to previous years but that hasn't put punters off. In fact, it's the online sports books themselves that are saying more people than ever want to bet on the Draft.
A Sportsbook's World
With people having to stay indoors, they've turned their attention to online gambling. As such, the industry is going through a bit of a boom.
Sportsbooks have estimated that as much as $5 million could be wagered on the 2020 NFL Draft, while FOX Bet have a much larger estimate – as much as $20 million. No matter which figure ends up being right, it still represents a huge increase from the typical $1 million wagered on the Draft.
Joe Asher, CEO of William Hill, expects that more bets will be placed on the 2020 NFL draft compared to previous Drafts:
"The draft is a time of renewal, and I think people are looking forward to a bit of fun after all of the tough news we've had recently. Betting on the draft is small in context, so this is no silver bullet, but it's something positive for sure."
He goes on to say that William Hill is expecting at least double the number of bets placed on this year's Draft than normal.
FanDuel New Jersey is also expecting a large increase in activity. They say there are taking triple the number of bets and money from punters compared to the 2019 Draft.
Jason Scott, head of trading at Roar Digital, a partnership between GVC Holdings and MGM Resorts, says they are predicting $5 million will be wagered on the Draft across the country:
"We're seeing a hell of a lot of interest, but at a lower average bet amount than we would see for a Super Bowl." 
Roar Digital also reports that most of the interest seems to be surrounding Tua Tagovailoa from Alabama. People are keen to bet on the team that drafts him and if he will be selected before or after the fifth overall pick.
Further, Rush Street Interactive, the company responsible for operating PlaySugarHouse's online sports betting site, took more bets on Monday alone than the total number of bets placed on last year's Draft – and the majority of all the bets made last year were actually made on the day of the Draft itself.
To put this into perspective, the 2019 NFL Draft generated around the same number of bets as a standard NFL regular-season game.
What You Can Bet On
The most obvious bet you can make is who will be drafted first. According to the general public, the most likely top three Draft order will be as follows: 
Joe Burrow from LSU

Chase Young from Ohio State

Jeffrey Okudah, also from Ohio State.
But there are plenty of other fun bets that people are keen to take a punt on.
First up, will more first-round picks come from the SEC than from all other conference combined? The odds suggest that the field is more likely, even though the SEC has the best talent on offer.
Next up is betting on Mr. Irrelevant ie the position of will be picked last. If this tickles your fancy, you'd be interested to know that six of the last eight last picks have been offensive players, with half of them being tight ends. Of course, this has no bearing on the upcoming draft but it's good to know anyway.
Another prop bet you can bet on is the number of trades made on the day of the Draft. The general line seems to be set at 5.5, with the Over being favored, but not by much. It's sure to have you on the edge of your seat throughout the first day, especially towards the end.
Finally, with Joe Burrow very much expected to go number one overall, you can bet on who you think he'll hug first after being selected by the Bengals. Choose between his mom, dad, girlfriend, a friend and one of his siblings. After going straight to his mom after taking home the Heisman trophy last year, she is the current betting favorite.
Hardly A Windfall
While the amount wagered on the Draft will certainly help the betting industry's bottom line in the short-term, it is just a small drop in the much larger betting pool. High profile events generate a substantial number of bets.
Further, all bets must be made online since land-based sportsbooks are not open. If they were, you could expect even more action. In New Jersey, for example, nearly 80% of sports betting is made online, with other states also posting similar numbers.
Still, for anyone that doesn't know anything about European table tennis, or anyone that would not try their luck at poker for the first time, the NFL Draft is a sight for sore eyes. There are certainly good prices out there too. For example, by just betting $15 with some sportsbooks, you could win as much as $525 if reigning Super Bowl Champions Kansas City Cheifs select Henry Rugs III from Alabama.
With this in mind, we've been through Bovada's lines (one of the most notable online sportsbooks for US bettors) and noticed some of the odds were up on the Draft. If you don't know too much about how this sportsbook operates or just want some background information on it before you use it, check out our Bovada review. It comes from a trusted resource so you can be sure you're getting an honest opinion.